Description of Domain
While a variety of manufacturers produce golf discs, their design is regulated by the Professional Disc Golf Association (PDGA) so the discs have a common fundamental structure.  As opposed to traditional "Frisbees" these discs are smaller, denser, faster, and not suitable for playing catch.  Adapting the nomenclature from traditional golf clubs, discs vary primarily in their intended use and are typically labeled as: distance drivers, fairway drivers, mid-range/approach discs, and putters.  Each disc manufacturer produces a number of different models, each one fitting into one of the categories listed above–these models are also referred to as "molds" since they each have a slightly different shape.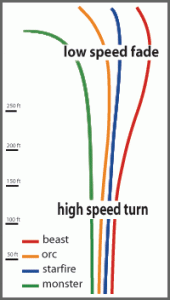 Each model has different intended flight characteristics and can be produced in a variety of plastic-types, colors, and weights.  The internal factors that impact the disc's flight characteristics include: mold, plastic, weight, and the wear on the disc.  These factors, combined with the player's skill set and environmental factors will determine how the disc will fly.
As of April 2015, there are nearly 800 PDGA approved golf discs to choose from.  As a result, it has become increasingly challenging to find an appropriate disc for a player's skill set and  environment–especially for new players.  With the creation of a common application profile, these diverse factors will be mitigated and the barrier to entry for the sport will be lowered.  While each manufacturer has slightly different criteria for how they rate their discs, a common application profile can help to bridge the gap between these differences.  One potential use for this data would be a relativistic model for golf discs.  If you need a disc that is faster or more stable than a disc you have, you can easily find one using this metadata.  The unique factors involved in golf discs make it necessary to develop some proprietary elements, in addition to pulling from some established schemas to increase interoperability with other retail collections.
Domain Analysis
With the increasingly large number of manufacturers and models of golf discs, players can have trouble finding and obtaining an appropriate disc to fit their skillset and playing style.  Moreover, manufacturers and retailers would be more effective in serving their customers if they are able to sell a diverse set of discs that cover a wide range of playing styles.
The diagram below outlines major descriptive elements associated with golf discs, as well as their relationships to the item itself.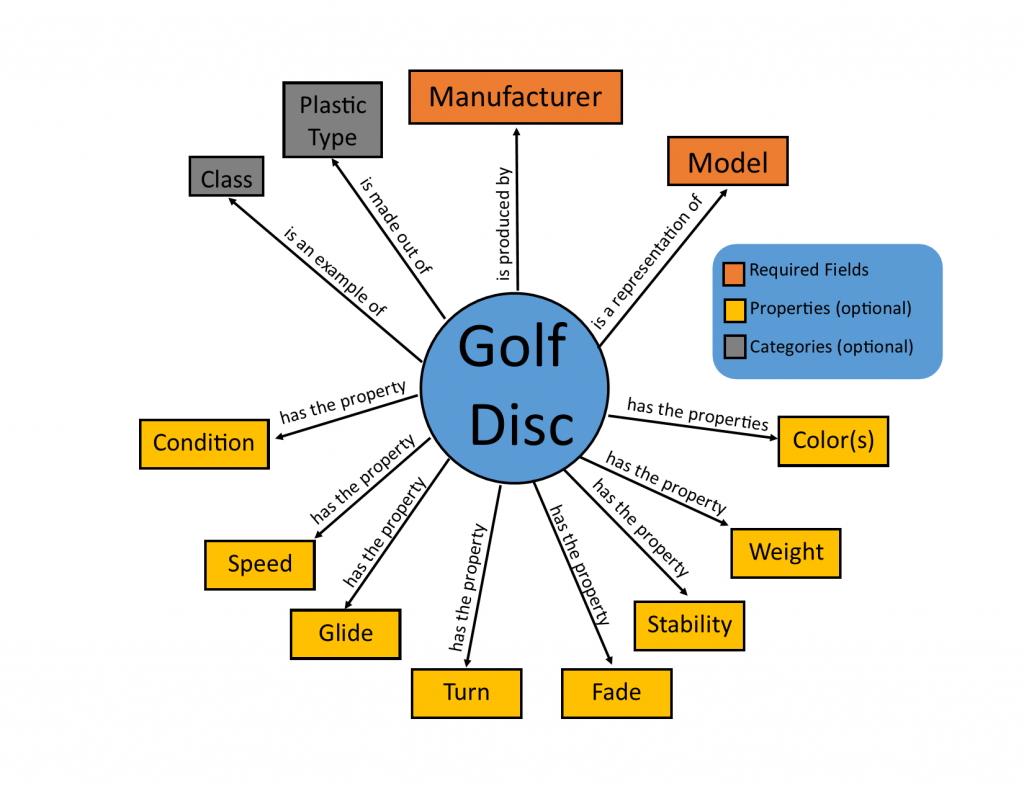 There are several distinct functions that an effective golf disc metadata schema should address.
Disc manufacturers must assess the necessity of producing a disc with specific properties.  The most straightforward method for doing so would be to identify any gaps in their current lineup using the disc properties as outlined above.  If, for instance, they do not have any stable, speed 7 discs in their offering, they could develop a prototype for one.
Retailers need to assess the marketability of a given disc.  If a disc golf shop were to have high sales in discs with certain properties, they could choose to order other discs with similar properties to support that demand.  Or, to give another example, if they do not sell many pink discs, then they could request to have fewer of that color delivered.
Players need to assess the types of disc that they should add to their bags.  As with manufacturers and retailers, players can also use this metadata to identify gaps in their disc collections and find discs that would be able to fit specific purposes.  It pays to have a well-rounded set of discs so that players are able to tackle on-course obstacles.
Players need to be able to select the correct disc for any given environmental condition while on the course.  This metadata would also be helpful on the course, as players need to select an appropriate disc for the terrain and conditions.  I find it helpful to have a variety of disc colors, so that I'm able to identify a disc quickly when it is in my bag.